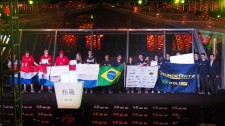 SHANGHAI, March 12, 2018 (Newswire.com) - Chinese combat robot sporting events are gaining global popularity. FMB (Fighting My Bots) is developing combat robot culture in China and abroad. Since 2015, FBM has collaborated with other international robot fighting leagues to create the most exciting robot competitions in the world. The recently completed 2017-2018 FMB World Cup, was met with great enthusiasm and record attendance in China.
The FMB World Cup included classes of 110 KG, 60KG, and 15KG based on robot weight. With over 60 teams and 238 robot lovers from all over the world, the invited teams were selected by an FMB committee based on the results of the worldwide combat robot competitions in the past year. The exciting competition is based on pitting two robots against each other in thrilling one-on-one fights. Each robot competitor is judged based on agility, attack and defense, with a total knockout resulting in an automatic win. This competition was also live-streamed around the world for more than 20 million. After a three-day robot fighting tournament, the final competition results were announced.
For the FMB World Cup 110 KG class, Team OYES from Auckland, New Zealand, took home the trophy and prize money with their robot Death Toll. They lost the 15kg class in the first round due to a weapon failure, but they had great success in the 110KG championship. Mechatrons from Ireland won the second prize with their Diotoir 4 robot and Echo from U.S. took home the third prize with their Echn2.0 robot.
In the World Cup 60KG class, Team Karma from India won the championship. The team is made up of seven engineering students - five from Sinhgad College of Engineering, Vadgaon (SCOE) and two from Smt Kashibai Navale College of Engineering, Vadgaon SKNCOE. Rohit Navle said, "Team Karma holds the distinction of being the first Indian team to win an international event in this category - bringing home the trophy and a cash prize of 60,000 Yuan."
For the FMB World Cup 15KG class, Team ThundeRatz from Brazil won with their ReDrum robot and Bonx from Netherlands won the second prize. 
Each winning team was awarded a prize from $7900 USD to $36,000 USD. During the FMB Final Ceremony, those teams were also crowned with other awards based on their performance, such as FMB Hall of Fame, Best Design, Best Technology Innovation, Best Attack, Best Team, Lifetime Achievement Award, and more. Video coverage of the exciting competitions can also find on YouTube.
For more information regarding FMB events, visit their website: http://www.ufbot.com
Media Contact: 
Summer Su 
Email: summer@vinyl2.com
Source: FMB (Fighting My Bots)
Share: