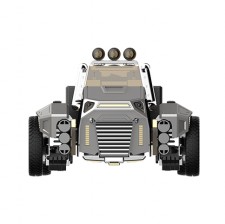 Automatic Transforming robots at CES.
LAS VEGAS, January 13, 2019 (Newswire.com) - Robosen Intelligent Tech (ShenZhen) Co., Ltd recently unveiled their most advanced programmable robot during CES 2019. Robosen T9 is a complex transformer robot with intelligent programming and AR games. CES 2019 will likely be best remembered as the show that brought real transformers to global consumers.
The new Transformer T9, created by Robosen over the last three years, is a highly agile robot that can automatically transform between humanoid and car form, is fully programmable and also includes games.
To make all of this magic work seamlessly together, the T9 uses 22 separate, highly advanced servo motors controlled by a dynamic robotics system developed exclusively by Robosen.
Multi-control and intelligent programming. 
T9 is an intelligent transformer that combines entertainment and education. It celebrates the classic design of Transformers and brings the wonder of transforming into real life. 
Entertainment 
The robot has 22 servo motors that support switching from humanoid form to vehicle and back. Complex movements such as walking, driving and dancing are controlled by voice and APP. It also supports an augmented reality game mode using mobile APP operation, which provides an unprecedented immersive AR game experience.
Education
T9 has modular programming capabilities for multi-interfaces of animation and graphics, it uses scratch and 3D programming systems to convert obscure programming code into easy-to-understand graphical operations, a great way to learn important programming skills and problem-solving.
Visitors to the Robosen booth try T9
At a recent event, three T9 Transformers presented an incredible live dancing performance. The robots showcased their skills including transforming, walking, dancing and push-ups, which attracted the attention of a crowd of visitors, and interviews with tech media reporters.
Potti, CMO of Robosen, commented, "Robosen has been in the industry for over ten years and is the first company in the world with the capabilities to produce AI transformers. We insist on self-developing robotic tech in order to bring prices down to more consumer-friendly levels. Open robot capability is our market cooperation strategy, and we have established a cooperation with BANDAI, and aim to bring more and more innovative robotics products to the world."
For press related inquiries, please contact us at  lesenrobosen@gmail.com​.
Source: Robosen
Share: