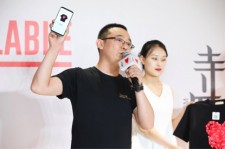 SHANGHAI, July 3, 2018 (Newswire.com) - 30 June, Secoo hold a press conference to announce a partnership in Shanghai with Emotionally Unavailable, which is designed by a famous Chinese pop-star Edison Chen. Edison also attended the event and shared the reason why he chose Secoo for the partnership. Besides, Secoo also launched the blockchain tech officially and applied this new technology on specific items sold on Secoo platform. Through this new tech, Secoo became the first company to utilize blockchain for product application in luxury industry.
Champion Ren, CGO of Secoo, demonstrated how to use the blockchain to achieve anti-counterfeiting traceability.
Champion mentioned that this achievement is based on Secoo's authentication and anti-counterfeiting capability. After the authentication, every item can have anti-counterfeiting information and Secoo will upload the information to the blockchain system for storage. Relying on the blockchain technology, decentralization, non-modification and traceability, products will have a unique identification with multiple anti-counterfeiting inspection information. Consumers can also use Secoo mobile application to find detailed information to ensure the products' authentication.
In the press conference, Champion Ren also illustrated the steps how to use the blockchain to achieve the traceability with the product name, color, size, authentication information, and blockchain information.
Champion Ren also explained that Secoo is the first company to launch luxury blockchain in the industry. As a precursor, Secoo has many advantages, such as physical offline experience centers, warehouses, and strong partnerships. In the future, Secoo will also help partners to open the commodity information upload and traceability privileges.
Through ten-year efforts, Secoo has already accumulated plenty of experience in luxury authentication. Secoo owns Asian's largest luxury authentication center and over 100 appraisers all over the world. The application of blockchain will increase the consumers' trust and establish a new standard for the complicated e-commerce industry. The new technology allows Secoo and consumers to avoid the fake issues and purify the luxury market.
Champion Ren said that Secoo has worked on this topic for a long time. The official launch is attributed to the whole company's efforts for a couple of months. In the future, Secoo will use the blockchain into more commodity categories and seek for more cooperation and partnerships to jointly improve the luxury industry.
Source: Secoo
Share: