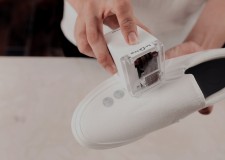 Print on Anything with the Magic PrinCube
NEW YORK, October 9, 2019 (Newswire.com) - The God Things is an exciting new startup working on innovative product design and production. Today, they announced the launch of the world's smallest mobile color printer. This handheld device fits in a pocket, goes anywhere and can print on virtually any material or surface. This revolutionary mobile printer is launching in Oct. 10 on Indiegogo: https://www.indiegogo.com/projects/--77120/coming_soon/x/22474644.
PrinCube is ultra-lightweight, fits in the palm of the hand and lets users take high-quality, fast printing anywhere. It works over Wi-Fi with a smartphone to easily upload any text, image or design and instantly prints onto any object at the touch of a button. Weighing only 160g (cartridge included), this amazing cube printer is portable enough to take the power of inkjet printing on-the-go, using an on-board battery that provides six hours of work time and an incredible one year of standby time. The output is outstanding as well; it can print across 415 pages of A4 paper. It's perfect for business travel, events, art classes or the office. Have a glance: https://youtu.be/_J0Xs9bjxU4.
Unlike other small-scale print solutions, PrinCube isn't limited to black and white, it prints in vivid color that makes messages stand out. Its color inkjet personalizes ordinary objects and is perfect for designers and artists, as well as business people. Surprisingly, the device is extremely simple to use.
The team's goal from the beginning was to create an effective and portable mobile printer, but it couldn't be complicated or require constant ink charging and maintenance. With those goals in mind, they spent over eight months constantly refining the design of PrinCube to achieve high performance in the smallest form factor possible. The team made it compact, lightweight, long-lasting and, finally, simple to use. Connect a phone, select a design and press just one button. There has never been an easier way to print.
One of the limitations of traditional printers is that they can only print on paper. Until now, expensive laser engravers and screen-printing were required for putting logos and lettering on everyday objects. Now, with the PrinCube handheld, portable printer, virtually any object can be printed upon. It works on any texture or shape, even on the skin, and can print over uneven surfaces with ease.
The new mobile handheld PrinCube promises to make effective inkjet color printing truly mobile. The device is compact, affordable and more user-friendly than other printing options and opens up a world of possibilities for consumers, professionals, students and artists.  
PrinCube is available now with special deals and discounts for early adopters. Learn more here: https://hiprincube.kickoffpages.com/.
Source: The God Things Ltd.
Share: