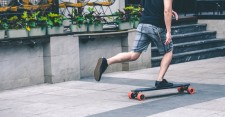 News
-
updated: Jul 15, 2017
Exway recently announced the launch of their new X1, the most intelligent electric skateboard on the market today.
Recognizing that the current offerings on the market lacked special features and good looks, Exway enters the industry with a high performance model that adds the most essential and advanced features into a board with unparalleled good looks and style.
They started by wrapping the most advanced high capacity Li-Po battery available inside a thin, sleek deck constructed out of military-grade material for unbelievable durability. The slim deck design was achieved by integrating its dual power motors into the wheels themselves. With its integrated motors and deck-embedded battery, the X1 avoids the bulky and awkward look of other electric skateboard designs that simply add these components to the exterior.
Adding to the great looks are a bevy of useful features that modern riders will appreciate, such as remote Bluetooth activation for powering On the board and advanced sensors that apply power to the wheels in a non-linear power curve which provides a smooth start up and then increases speed accordingly. The extra powerful fully integrated motors are designed with greater torque and climbing performance for hills and challenging road conditions for a better overall riding experience.
Exway also distinguishes itself by partnering with respected US vendor SEISMIC which provides the skateboard trucks and suspension which contributes to the superior stability and steering control of the X1. Creating a ride quality-centered design marks a new concept in the industry that has previously approached electric skateboard design from a 'add power' only point of view.
"As riders ourselves, we tried virtually all of the current skateboard models on the market today. Some were good but none of them had the ride control, steering, and features we were looking for ourselves. We knew we could do it better. We concentrated on first designing a board that rides amazingly well. Only then did we add the intelligent features that are essential for a modern electric skateboard." Chao Zeng, Founder/CEO
With an incredible light weight of just 6kg, a range of 16km and a top speed of 40km/h, the X1 far surpasses the performance specifications and ride quality of other electric skateboards on the market. It has special features that make it great for beginners and pro-level riders alike. For those looking for an electric skateboard that will continue to perform well as their riding experience improves, the X1 is perfect, combining ride quality and the latest technology for commuting, competition, and fun.
Learn more about the Exway X1 on their website: http://www.exwayboard.com/
Share: