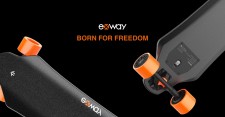 News
-
updated: Jul 14, 2017
The growing competition in the global skateboard market is forcing manufacturers to develop products with innovative features that set them apart from their rivals. In a bid to achieve this, Exway introduces its X1 electric skateboard model, which boasts the most advanced smart features on the market today.
Exway's board has a number of new features that satisfy skateboard enthusiasts from entry level to expert, making it one of the most exciting new releases on the market today.
Combined with the latest technologies, the Exway skateboard includes features such as intelligent Bluetooth remote control, improved intuitive interaction functionality, four speed modes, and a high-definition light-emitting diode (OLED) display screen. The skateboard's Bluetooth remote control allows users to easily control it. With its ability to display vital information such as real-time speed, as well as battery and gear information, users are well-informed about the condition of the skateboard, ensuring a trouble-free and very enjoyable skateboarding experience.
Knowing that skateboarding fans have varying levels of skill, designers from the company included four speed modes that are controlled by an electronic speed controller (ESC) unit. The beginner mode, is intended for entry level riders or those who want to use their skateboards at lower speeds. The other speed modes include an energy-saving mode, intermediate mode, and advanced mode, meaning that riders of every level will enjoy the board.
Most significantly, the Exway uses a very high-tech intelligent control system to complement the skateboard's slim and compact aerodynamic design. The product's curved throttle response allows for a very smooth start up which makes the riding experience much smoother. This is accomplished by an advanced custom sensored FOC ESC that allows the user to begin with a smooth start-up and transition to a more powerful running speed.
Additionally, the skateboard includes such features as an e-brake function for easier control, a dedicated APP for personalization or customization purposes, and an automatic soft brake. It also features a fault alarm functionality for real-time self-diagnosis to ensure a worry-free and trouble-free skateboarding experience and safe modes that limit the speed for safer riding.
The skateboard has a streamlined design at the front end and a flat design at the rear for better handling. The product's U-type concave deck design allows for more comfortable riding. With a width of 24 centimeters, the skateboard's deck provides a wider space for better stability of the rider. The skateboard's powerful and high-efficiency direct drive brushless motor makes the product a monster in terms of performance.
Several professionals who have been provided with early models of the board have had glowing remarks about the product's quality and performance with some experts proclaiming it the best electric skateboard available today. 
Share: